During the first week of December we took part, as speakers, in the Export Bootcamp, part of the "Winter Ostrov" («Зимний остров») conference in Sochi.

This is a large entrepreneurship and business innovation event sponsored by a number of Russian educational and business institutions, including the Agency for Strategic Initiatives, a government-supported organization whose aim is to stimulate innovation and technological change in the Russian economy as well as Global Venture Alliance (GVA), a private entity that manages acceleration, incubation and educational programmes for startups.



In addition to delivering our keynote presentations on international business development, we also had the chance to meet with quite a few entrepreneurs from all over the world.
It is not only Russia that was well represented by a number of high-caliber professionals, there were also several experts in attendance from, literally, every continent. Europe, the US, Brazil, Japan, China, India and the Middle East were all represented, which enabled the participants to get a very comprehensive overview of the challenges that internationally-minded entrepreneurs face in each of these regions of the world.



The programme was pretty intense, with back-to-back sessions from early in the morning until the evening.

In particular Miquel delivered two keynotes for the export workshop on "Creating a value proposition for external market expansion of a product" and "Operations and finance planning", both with a focus on European markets.



We also took part in the panel discussions, that congregated quite a large audience in the rather impressive setting of the Adler Olympic arena (one of the venues of the 2014 Sochi Winter Olympics), where a stage was built covering part of the indoor sports tracks.

Miquel was one of the speakers of a session about "Particularities of running a business in regions: green corridors and restrictions for small business from abroad (legislation, specifics, regulatory aspects, operations questions)", moderated by Vadim Manov, CEO of Green Ocean Group and the participation of Ozan Sönmez, Lead Program Designer, SDG Impact Accelerator, Lyudmila Kharitonova, Managing Partner, Zartsin and partners and Cheechin Yew, Head of China Market Entry Services, Priority Services, PwC.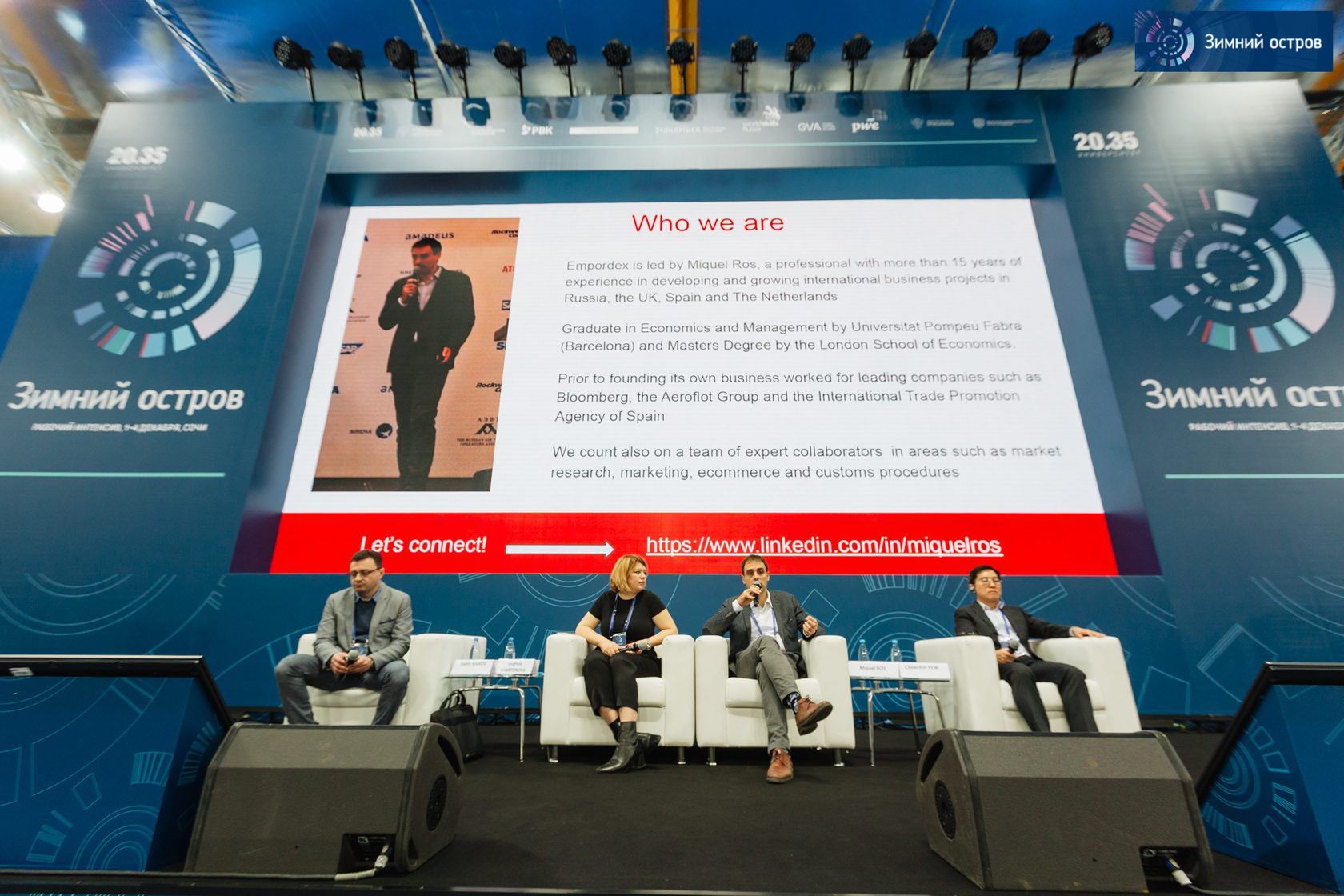 Valentin was, in turn, a speaker at the panel discussion: "Planning your expansions", moderated by Derek Distenfield, COO & Co-founder GSD Venture Studios, and counting as speakers with Mikhail Lyapin, Co-founder, MoneyRock, Yuriy Fedotkin, Partner, Accelerator Expanse Capital (Latvia) and Sergey Vostrikov, Managing partner at Memorandum Capital.

With the event taking part in a setting like Sochi, with both the Black Sea and the Caucasus mountains at hand, no need to say, there was also some time for sightseeing at the Olympic winter wonderland of the Roza Khutor Alpine Resort, one of the best skiing resorts in this part of the world!